Storage Service Center
This page is provides the necessary information for requesting, managing data storage allocations and billing.  It is important that you review the Storage Billing FAQ and Data Storage Service pages.  Below we provide information on the three different software applications we use to help PIs (Coldfront), Finance managers (FIINE), and Lab/Data managers (Starfish) perform their roles.
To get more information about the storage tiers and their features please visit storage tiers on our data-storage services page. Please feel free to reach out to us at  rchelp@rc.fas.harvard.edu with any questions.
REQUEST OR MANAGE AN ALLOCATION
To request a new allocation or manage and existing one, you will use Coldfront
If you have an existing allocation and cannot access Coldfront, please contacts FASRC
MANAGE BILLING FOR ALLOCATIONS
Charges for storage allocations are billed monthly. Expense code(s) can be applied to each allocation and can be sub-divided amongst multiple codes.
See our Service Center FAQ for answers to common questions.
To manage billing for an existing allocation, you will need:
Instructions for expense code management and billing record review in FIINE are available at:
https://ifx.rc.fas.harvard.edu/docs/user/fiine.html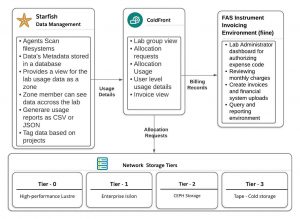 Starfish – Data Management
Starfish – Scans the different storage servers to provide a view, usage details, metadata, and tagging based on the projects. Check here for more details about starfish and examples to query the data.
Coldfront – Lab and Allocation management:
Coldfront – Provides a view on PI projects and allocations. New allocation and updates to existing allocation can be requested using Coldfront. Check here for more details about Coldfront and its use.
Fiine -FAS Instrument Invoicing Environment
Fiine – For lab/finance administrator to manage the expense codes per project/user and view invoices. Check here for more information about using the Fiine system.