Coldfront – Allocation management
Please check the Storage Service Center page for the dataflow to ColdFront
ColdFront is an open-source resource allocation management system designed to provide a central portal for administration, usage reporting, and allocation management of HPC resources.  FASRC adapted the software to manage allocations on the FASRC cluster.  Right now, the service has 2 major components:
Project: Lab groups and projects, if your lab has more than one group or you are part of multiple groups you will see more than one project.
Allocation: Storage Allocation on one or more storage devices.
Users need to connect to @fasrc VPN and can log in to Coldfront using FASRC credentials:
https://coldfront.rc.fas.harvard.edu/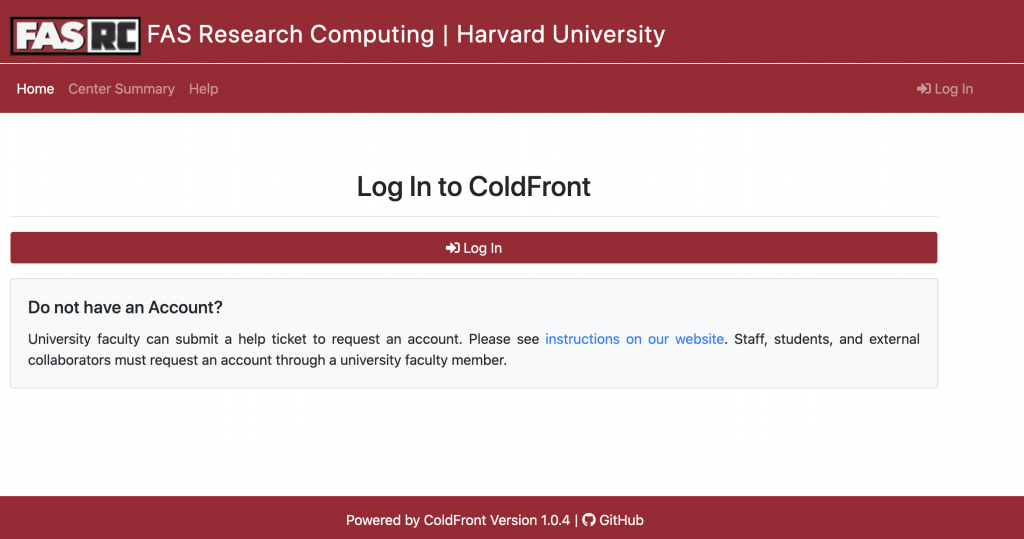 After you log in to coldfront, you will see one or more projects on the left and one or more allocations on the right. Click, project link or Allocation active button to view details about your projects/allocation.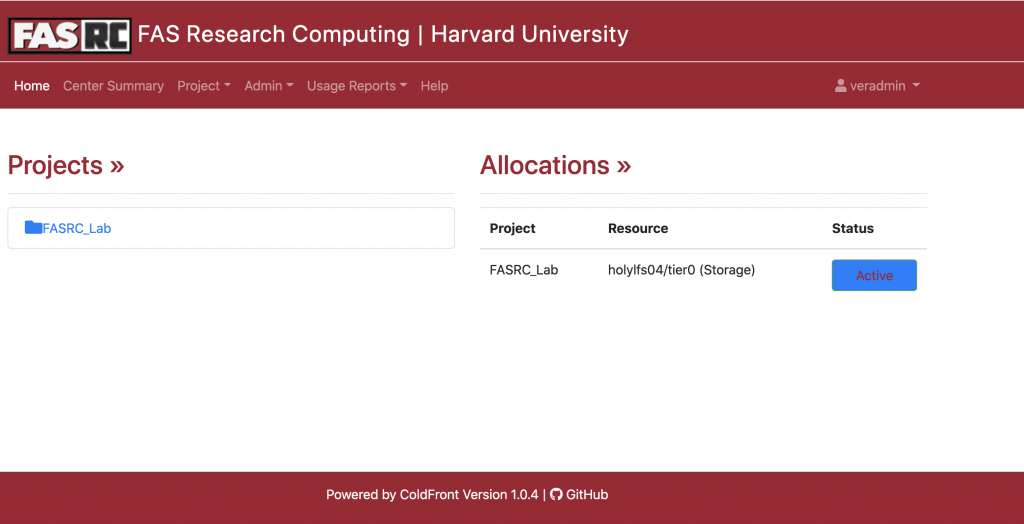 Project/s:
Project list all the users in your lab group. These are 2 main roles, Manager and User. Only the users with the manager role are allowed to request new allocations or request changes to the current allocation.  A user role is to view their current projects and allocations.  The allocation tab shows your current allocations and usage.
Note: If you should be authorized to request allocations, please ask the PI to log in to coldfront and promote your user as manager.
Allocations:
The page shows the total allocation size, total usage, and estimated cost per month. It also has a table to show usage per user and the information is updated once a week from the data management system (Starfish). It shows the estimated cost per month after aggregating their usage across different folders. Starfish is used to get this data and Labs can request access to starfish or its data to better understand the usage and remove any old project or user data.
Currently, allocation requests are for different storage Tiers (Tier0, Tier1, Tier3). We are still working on Tier2 to offer it as a service.

Allocation Requests:
PI or Managers of a lab project should be able to make a new allocation request or request changes to the current allocation. To request a new allocation, click Request Resource allocation and to update existing allocation, click View Details of an allocation and then Request Change. Coldfront will email you when the allocation is updated and ready to use.
Please review https://www.rc.fas.harvard.edu/services/data-storage/#Offerings_Tiers_of_Service for the storage features and updates. If you have any questions. please feel free to reach us here: rchelp@rc.fas.harvard.edu
Bookmarkable Section Links