Virtual Desktop (VDI) through Open OnDemand
A new VDI system using Open OnDemand replaces NX/NoMachine for FASRC users.
This new solution is entirely browser-based and does not require a client/app to initiate new sessions.
The portal, operating in Beta mode, is already fully operational and users are encouraged to use that instead of NX.   Users are  encouraged to use it and provide feedback,  comments and requests.
https://vdi.rc.fas.harvard.edu
The new portal vdi.rc.fas.harvard.edu provides a browser based interface to the cluster. From the portal you will be able to :
browse your files
check the status of your jobs
submit new batch jobs
run remote desktop sessions as part of a compute job on our remote_desktop dedicated partition
run other interactive applications like for example Rstudio sessions or Jupyter notebooks
To access the portal you will need to be logged to the FASRC VPN and have cluster access, which you can request via Portal.
How to connect to the VDI portal:
Make sure you are connected to the FASRC VPN.
Note: When connecting to the VPN, cluster users should connect to the VPN using the @fasrc realm, while NCF users please make sure you are in the @ncf realm
Point your browser to https://vdi.rc.fas.harvard.edu
Note: NCF users should use  https://ncfood.rc.fas.harvard.edu
Note: Safari and Internet Explorer might work for some of the apps in the portal, but are not fully supported. We recommend to use Chrome or Firefox
Enter your RC credentials into the authentication form.
Upon successful authentication you will land on the main dashboard.  Please note that the first time you log in the portal might take some time to return.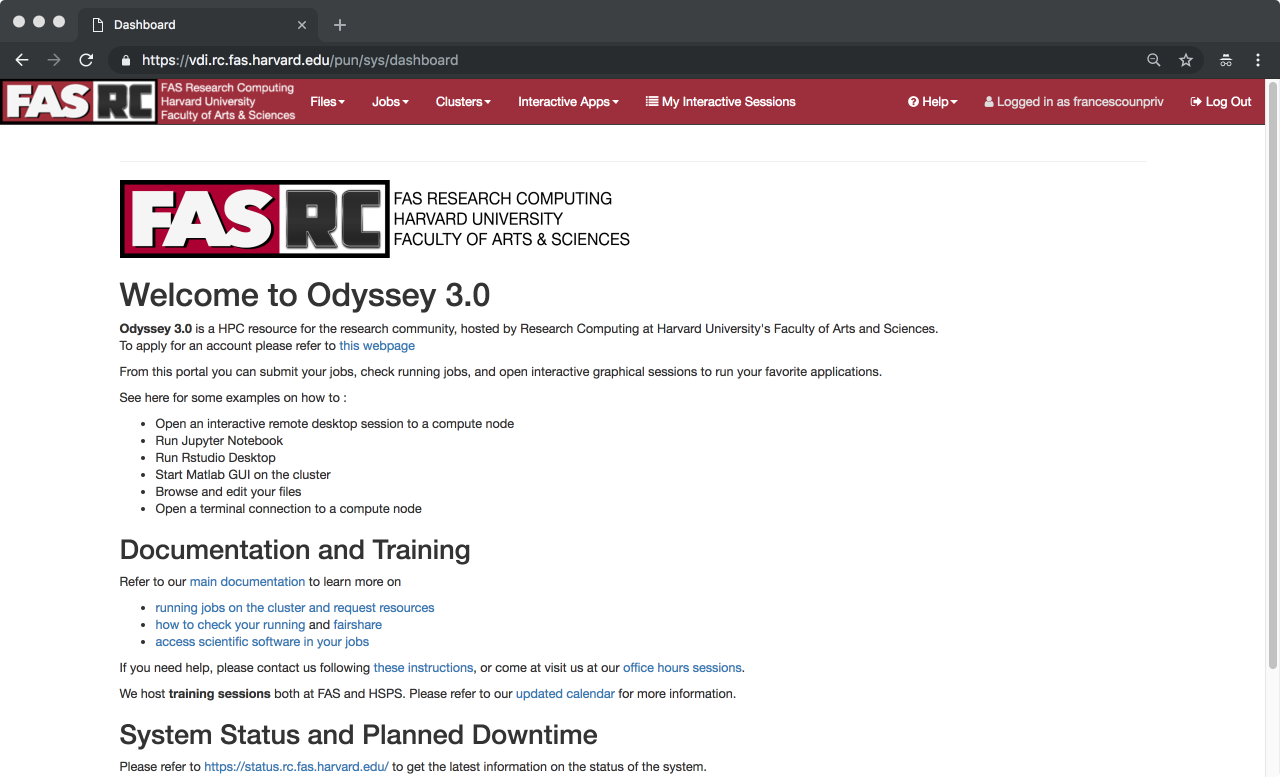 Quick Tour of the Dashboard:
On the dashboard you will see displayed the Message of the Day – with pointers to our documentation and other important information – and several menus to access the different Apps for File Browsing, Job management and Interactive Computing.
Files:
The File Menu contains a link to open in another tab a File browser that will show you files in your Home folder. See further details here (link will be provided shortly).

Jobs:
This Menu offers two Apps, Active Jobs (ink to specific doc will be provided shortly) will allow you to check the status of your current jobs, while Job Composer (ink to specific doc will be provided shortly) will allow you to edit and submit new jobs through the portal.
Clusters:
The App "O3 Shell Access" will allow you to open a shell terminal in one of the login nodes
Note: you might be prompted for password and second factor.

Interactive Apps:
This is the Menu where all the Apps for Interactive sessions are contained.  A detailed description of the currently available Apps can be found at this page.
NCF users should refer to this documentation 
Please note that the exact content of the menu might vary depending on your user profile and what software you have access to. For example the icon for launching Comsol will be visible only to SEAS users, being the license for that software limited to SEAS.
Clicking on each of the Apps will bring you to a form to schedule the job and connect to the remote session directly in your browser.
My Interactive sessions:
You will find here all your currently open interactive Apps and you will be able to reconnect to the sessions from here.
Help:
This menu provides links to contact user support and to reset your FASRC password.
You will also be able to restart the web server that serves your dashboard (only needed for developers and advanced users)